Saturday, 24. 11. 2012, 11 am
A-8490 Bad Radkersburg, Stadtgrabenstraße 33
---
Bus
Graz-Radkersburg: Departure 9.30 am, Künstlerhaus Graz
Radkersburg-Graz: Departure 4 pm, Zollamt Bad Radkersburg
Please register at zollamt(at)mur.at or +43 316 818306
---
Start: 11 am
Music: Bruno Uray, Guitar
Film: Walter Schaidinger, Short film
Welcome Address: Joachim Baur und Reinhard Diethardt
Speaker:
Richard Kühnel, European Commission, Vienna
Julia Fabényi, BMMI-Janus PannoniusMúzeum, Pécs
Marko Košan, Koroškagalerijalikovnihumetnosti, Slovenj Gradec
Nadežda Čačinovič, Croatian P.E.N. President, Zagreb
Bazon Brock, Denkerei – Amt für Arbeit an unlösbaren Problemen und Maßnahmen der hohen Hand, Berlin
Film and Performance: Umesh Maddanahalli
ZOLLAMT – Tour & press conference (ORF Steiermark + ZIB 2, orf.tv, Ö regional + Ö1, various Print media, APA, etc.) : at about 12 mn
ZOLLAMT – Buffet: about 1.30 pm
With works by: Joachim Baur, Joseph Beuys, Barbara B.Edlinger, William Contino, Christian Egger, Christian Eisenberger, Manfred Erjautz, Karin Frank, SeiichiFuruya, Martin Gansberger, Max Gansberger, Dorothee Golz, G.R.A.M., Heimo Halbrainer, Katharina Heinrich, Douglas Hoagg, Peter Gerwin Hoffmann, Christine Elisabeth Hollerer, Anna Jermolaewa, Karl Karner, Gabriele Kepplinger, Josef  Klammer, Alexander Laner, Umesh Maddanahalli, Eva Mohringer, David Moises, Leonhard Müllner, Ursula Neugebauer, OchoReSotto (Volker Sernetz & Stefan Sobotka-Grünewald), Kristian Paternusch, Giovanni Plos, Bambo Rauter, Georg Ritter, Linda Samaraweerová, Elisabeth Schafzahl, Walter Schaidinger, Ufuk Serbest, Martin Schitter, Nana Schulz, Josef Schützenhöfer, Josef  Taucher, Rosemarie Trockel, Timm Ulrichs, Bruno Uray, Peter Weibel, Franz West, Heinz Wondra und XXkunstkabel.
TELEMATIC ZOLLAMT: dorf.tv live via DVB-T & livestream dorftv.at/live & "desktop" Josef Klammer live via VoIPfrom Wroclaw, Poland & OchoReSotto live Visual Mixing & "SET" XXkunstkabel, Umesh Maddanahalli


Zollamt – eine Erhebung – Welttag der Zivilisation – ohne Grenzen keine Vereinigung – ohne Vereinigung keine Grenzen – Riten des Übergangs – Feste der Überschreitung – Tag der Weltzivilisation
(Bazon Brock, Denkerei Berlin)
ZOLLAMT means two former customhouses in Bad Radkersburg which now host a centre for culture and arts. For a long time these buildings represented the border between Austria and Slovenia (entry/exit) in terms of political issues. Since the accession of Slovenia to the Schengen Agreement in 2007 the borders are open again and the function of the customhouses became obsolete.
Within current efforts of rearranging the border region WERKSTADT GRAZ initiated the association ZOLLAMT to bring about a transition of the site by opening the doors of the two houses to everyone in the interests of civilization. Based on thoughts by Mustafa Kemal Atatürk who turned the Hagia Sophia into a museum – a place of civilization – because of religious controversials on November 24th in 1934, ZOLLAMT also was opened on november 24th, the worldwide Memorial Day of World Civilization.
In this sense the ZOLLAMT raises the customhouse to a place of civilization and creates a location of global communication. The TELEMATISCHE ZOLLAMT enables worldwide connected activity and support of cultural issues. This includes forcing dialogues and discourses about the current society of telematics and at once questioning the flood of information that surrounds us.
The program contains among different art-projects the so called ZOLLAMT KINO (cinema) and the AMTSBLATT (magazine) and many activities which have their focus in topics of border.
(Barbara Thaler, Werkstadt Graz)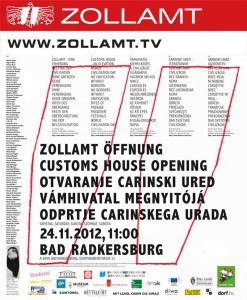 Plakat Öffnung "ZOLLAMT" (pdf)
Schlagworte
:
Alexander Laner
,
Anna Jermolaewa
,
Bambo Rauter
,
Barbara B.Edlinger
,
Bruno Uray
,
Christian Egger
,
Christian Eisenberger
,
Christine Elisabeth Hollerer
,
David Moises
,
Denkerei Berlin
,
dorf.tv
,
Dorothee Golz
,
Douglas Hoagg
,
Elisabeth Schafzahl
,
Eva Mohringer
,
EVIS – Ein Verein im Sinne des Vereinsgesetztes
,
Franz West
,
G.R.A.M.
,
Gabriele Kepplinger
,
Georg Ritter
,
Giovanni Plos
,
Heimo Halbrainer
,
Heinz Wondra und XXkunstkabel
,
Joachim Baur
,
Josef Klammer
,
Josef Schützenhöfer
,
Josef Taucher
,
Joseph Beuys
,
Karin Frank
,
Karl Karner
,
Katharina Heinrich
,
Kristian Paternusch
,
Leonhard Müllner
,
Linda Samaraweerová
,
Manfred Erjautz
,
Martin Gansberger
,
Martin Schitter
,
Max Gansberger
,
Nana Schulz
,
nyxas
,
OchoReSotto (Volker Sernetz & Stefan Sobotka-Grünewald)
,
öffnung
,
Peter Gerwin Hoffmann
,
Peter Weibel
,
Projekt ZOLLAMT
,
reinhard diethardt
,
Riten des Übergangs
,
Rosemarie Trockel
,
SeiichiFuruya
,
Tag der Weltzivilisation
,
Timm Ulrichs
,
Ufuk Serbest
,
Umesh Maddanahalli
,
Ursula Neugebauer
,
Walter Schaidinger
,
Welttag der Zivilisation
,
werkstadt graz
,
William Contino
,
zollamt