Zollamt Telematics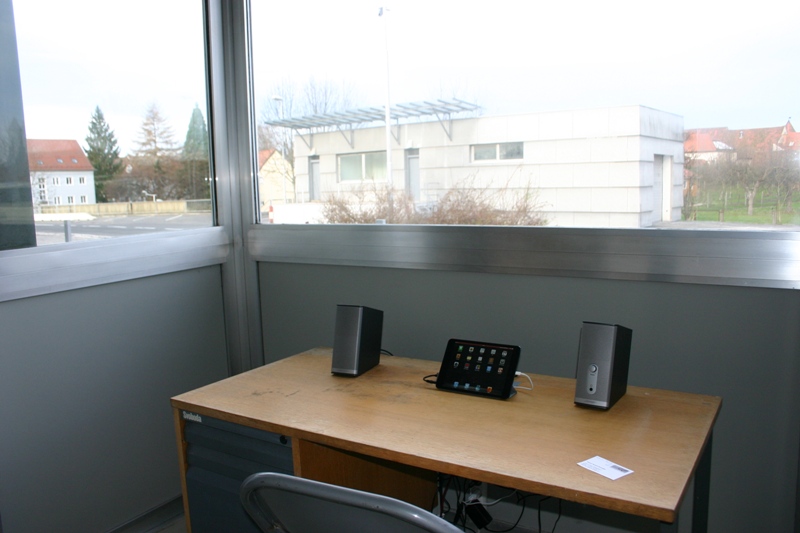 ZOLLAMT TELEMATICS was established and presented within the context of the ZOLLAMT OPENING. The customs houses have a broadband Internet connection. This provides a high-quality network and offers participants a solid base for global interconnection. It forms the basis for special artistic and scientific projects and experiments. Thanks to a live broadcast by the user-generated DORF TV television project, anyone could participate in the opening via DVB-T and Internet livestream.
Media artist Josef Klammer presented his work "desktop" live through VoIP from Warsaw. The sound generated by touching the original deskin the customs house was sent around the world and received in turn as an echo via the satellite system.
Media collective OchoReSotto offered a visual mixing of the film "SET" in collaboration with artist team XXkunstkabel, which was realised in cooperation with Indian artist Umesh Maddanahalli and presented as a live performance.
The ZOLLAMT.TV website was launched on 24th November 2012.
dorf.tv live via DVB-T & livestream dorftv.at/live
"desktop" Josef Klammer live via VoIP from Wroclaw, Poland (Foto)
OchoReSotto live Visual Mixing & "SET" XXkunstkabel, Umesh Maddanahalli
AUSTRIAN NATIONAL HOLIDAY
At the time of the national holiday, ZOLLAMT is particularly active in contact with the people in our country. You are cordially invited to accept this offer and to inform yourself about the services, the professionalism and the area of operation in our ZOLLAMT.
TELEMATIC ZOLLAMT / NATIONAL HOLIDAY 2017
http://www.zollamt.tv/telematisches-zollamt/nationalfeiertag-2017/
TELEMATIC ZOLLAMT / NATIONAL HOLIDAY 2016
http://www.zollamt.tv/telematisches-zollamt/nationalfeiertag-2016/
TELEMATIC ZOLLAMT / NATIONAL HOLIDAY 2015
http://www.zollamt.tv/telematisches-zollamt/nationalfeiertag-2015
TELEMATIC ZOLLAMT / NATIONAL HOLIDAY 2014
http://www.zollamt.tv/telematisches-zollamt/nationalfeiertag-2014
TELEMATIC ZOLLAMT / NATIONAL HOLIDAY 2013
http://www.zollamt.tv/telematisches-zollamt/nationalfeiertag-2013/
with exercises by: Robert Adrian X, Barbara B. Edlinger, Pogo Erjautz, Ben G. Fodor, Max Frey, Karmen Jancar, Peter G. Hoffmann, Josef Klammer, Damijan Kracina, Luiza Margan, Thomas Metzner, Ursula Neugebauer, Eva-Maria Raab, Mirjana Rukavina, Fiona Rukschcio, Peter Weibel, Eva Engelbert / Marlene Hausegger / Tina Oberleitner / Roswitha Weingrill, KLEIDERWERK, made in hongkong, ZOLLAMT